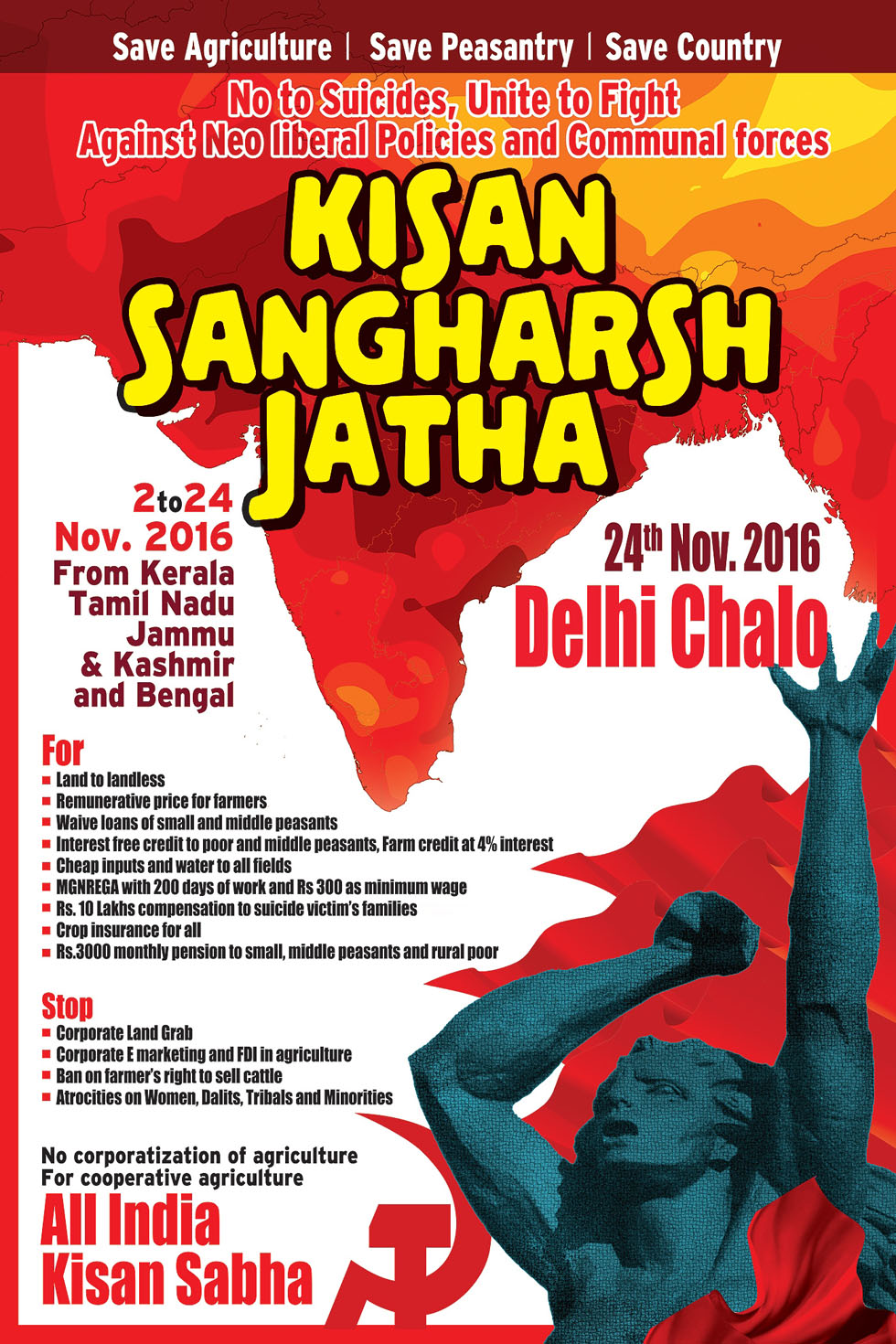 Agrarian Struggle in New Situation
Hannan Mollah
THE All India Kisan Sabha has taken up an important programme at the all India level. Four Kisan Sangharsh Jathas will be held from Kerala, Tamil Nadu, Jammu & Kashmir and West Bengal from November 2-23. They will cover thousands of kilometres moving through villages and cities addressing meetings, interacting with the peasantry and rural poor, highlighting the problems and demands of the kisans. All these jathas will converge at Ramlila Grounds in Delhi on November 24, 2016. Thousands of peasants will participate and march to parliament to draw the attention of the parliament and the government to the plight of the kisans of our country. The Kisan Sangharsh Jathas and Kisan Sangharsh Rally as well as Parliament March will herald intensified united struggles and concrete action programme against the anti-peasant neo-liberal policies and for a pro-peasant alternative.
Many drastic changes have occurred in the recent past. The present NDA government led by the BJP can be characterised as a corporate, communal, authoritarian and in a word, anti-people government. Secular and democratic space in the country is under attack and Hindutva forces are seeking to completely take over the political space. These changes have had an adverse impact on our people. The impact on agrarian life and peasantry is particularly severe and Kisan Sabha's perspective to fight in a united manner against these onslaughts has unleashed many struggles.
Ever increasing economic burden
During the last three years, the economic burden on common people increased manifold. Unemployment has touched acute proportions, especially in rural areas. The prime minister had promised creation of two crore jobs but in reality in 2015 only 1.35 lakh new employment opportunities were created. Instead of providing minimum 100 days employment in a year under the MGNREGA, it rarely crossed 35 to 39 days. So there was massive migration of rural as well urban working people. There was continuous price-rise of all essential commodities, specially the price of cereals and food grains. Agrarian crisis continued to deepen. Price rise adversely affected farmers' lives in a big way. The decline of agricultural growth, fall in food grain production further and adverse climatic conditions, especially the drought situation, made their life miserable. There was no proper compensation for crop losses either. Modi government also refused to accept universalisation of public distribution system. The government was cheating the people by misrepresenting data of families below the poverty line. It was pushing people out of the eligibility for food security by falsely placing them above poverty line.
On the other hand, the peasantry was in great distress on account of unprecedented increase in cost of agricultural production due to rise of all input prices. The budget for agriculture and rural development has been declining every year and subsidies are also being cut. Majority of the farmers do not get cheap institutional credit. Most of them are heavily indebted, mainly to the private money lenders. Despite such high risks undertaken and sacrifices made they were not even getting remunerative prices for their produce. Such a depressing scenario after the implementation of neo-liberal economic policies was leading them to commit suicides. The crisis has only worsened since the BJP-led NDA government took over. Narendra Modi promised before elections to give remunerative price to the farmers as recommended by the Dr Swaminathan Commission. Minimum support price will be fixed according to C2+50 percent implying at least 50 percent above cost of production was the promise that won over a sizeable section of farmers to support the BJP. After coming to power, the government filed an affidavit in the Supreme Court that they could not pay MSP according to this formula. It was simply a betrayal of the farmers. Achhe Din for the farmers and rural poor as well as toiling masses only remained an illusion.
Attacks on farmers' land and resistance
The BJP government not only destroyed the economic life of the peasantry but also wanted to uproot them from agriculture, rip them off their peasant-hood and push them into ever increasing number of insecure unorganised work-force. Immediately after coming to power, the BJP led NDA government conspired against the farmers for snatching their land by force and aimed to provide their land to the domestic and foreign corporate houses at cheap rate. The old imperialist Land Acquisition Act, 1894 was used by the British colonial rulers and later on national Government to forcibly occupy agricultural land for industry. All India Kisan Sabha had been fighting for long to change that anti-peasant law. There have been many struggles and lot of sacrifices by the peasantry against the draconian Act. Finally in 2013, that law was changed by parliament during the UPA rule. Although the Kisan Sabha was not fully happy with the new Land Acquisition Act of 2013, it was much better than the imperialist law. It recognised many rights of the farmers on land such as agricultural land cannot be forcibly taken by government for non-agricultural purpose without farmers' consent; secondly there was provision for social impact assessment of such acquisition; thirdly multi-cropped fertile land could not be taken for industry and safeguards for food security, fourthly if the land was not used more than five years, that was to be returned to the old owners, fifthly wrong-doing official for attempting forcible acquisition could be sued in the court of law etc.
The Modi government brought an Ordinance for land acquisition in 2014 replacing the 2013 Land Acquisition Act. The purpose of the ordinance was to snatch agricultural land for the corporates without farmers' consent. It removed the social impact assessment clause, made it easy to acquire multi-cropped land, made it difficult to return the land in case it is not used in time and also to sue the errant officials etc. This caused deep resentment among wide section of farmers. All India Kisan Sabha took up the matter immediately and called for massive resistance to this anti-peasant ordinance. The copy of the ordinance was burnt in over 300 districts, lakhs of signatures against it were collected in the country and many massive protests were held. Along with that, AIKS mobilised Left kisan and agricultural workers' organisations and people's movements as well as civil society groups were brought together which developed into a united body called "Bhoomi Adhikar Andolan". We jointly pressurised members of parliament from most political parties to oppose this anti-national ordinance by organising a public hearing and making them to take a public position against it. Bhoomi Adhikar Andolan also in a united manner deposed before the parliamentary standing committee and mobilised thousands of farmers before parliament twice.
All these united actions forced the Modi government to retreat from passing the Act after three attempts of re-promulgating the ordinance. However, it has not yet been formally withdrawn in parliament. The government may seek to appease the corporate companies and real estate lobby by reviving the ghost of the ordinance. It was for the first time that the united movement of the peasantry, agricultural workers, workers, adivasis and dalits has forced a central government to retreat. The Modi government later on changed its tactics. They asked state governments especially those run by BJP to make state-level legislations to facilitate corporate land grab. So we have to be vigilant to fight against such conspiracies that may be hatched in any state. We would have to fight against such attempts as well as mobilise united resistance in future.

Expansion of united action
Steps in the direction of united struggles at the state level have already been taken. The Bhoomi Adhikar Andolan had a national convention at Ahmadabad and decided to take the struggle against acquisition and for land rights, to the states. There are plans to acquire lakhs of acres land in the name of industrial corridors, smart cities and mining. The agricultural land, fertile land or tribal land in forest region is the target. New conspiracies are also hatched in the name of land pooling. In Andhra Pradesh and Telangana such efforts were made. In Rajasthan, Maharashtra, Gujarat, Haryana, Madhya Pradesh, Chhattisgarh, the BJP state governments were active in this direction. Some non BJP governments also such as in Odisha, Karnataka, Uttar Pradesh, Tamil Nadu, Punjab etc were resorting to promotion of corporate land grab. We have to build up united resistance in all these places. The Ahmadabad Convention decided to form Bhoomi Adhikar Andolan in all states by roping in many more like-minded new organisations. State level unity has been built and Bhoomi Adhikar Andolan has been formed in Odisha, Madhya Pradesh, Rajasthan, Gujarat and initiatives are on in different states to carry forward struggles by building issue-based unity. This unity is also being widened to ensure land rights and housing to dalits and adivasis as well as all landless, food and livelihood security to the peasantry.

Attack on tribal land and forest rights
Besides the above, a large amount of forest land and land belonging to tribal people is being grabbed by corporate companies who are also looting forest and mineral resources. After long battle the "Forest Right Act" was passed by parliament in 2006, to provide patta or legal land right to adivasis for the forest land under their occupation. The other traditional forest dwellers on the periphery were also to be given land rights by the Act. Lakhs of adivasis and forest dwellers in all states submitted applications for patta of their land. Lakhs of such applications were outrightly rejected and a vast majority of the applicants are yet to get patta. Only the Left Front government of Tripura has given maximum patta to the tribals. This year will be tenth year of the Forest Rights Act. AIKS has decided to successfully mobilise for a massive march to parliament on December 15, 2016 under the Bhoomi Adhikar Andolan banner. AIKS along with Adivasi Adhikar Rashtriya Manch, AIAWU and other organisations will take active part in this struggle and mobilise adivasi peasantry and workers in a big way.
Crop-wise and section-specific movements
Along with the usual movements of the peasantry – rallying them on all of their demands, we have to examine the specific problems of each crop and crop-wise movement has to be organised. AIKS has already taken up the issue and conventions were held of jute growers, sugarcane growers, rubber cultivators, vegetable growers and so on. In the past, an attempt was made to organise betel leaf growers, silk farmers, poultry farmers, milk producers and fishers and fish workers. Tribal people have been organised and also tenant farmers have been organised in some states. The conventions elected coordination committees for different crops, formulated their charter of demands and organised some movements also. AIKS will take up the task to build crop-based and section-specific movements and strengthen it to effectively address their concerns and reach out to wider sections of the peasantry.
Fight for a pro-peasant alternative
The kisan movement has planned struggles against existing agrarian policies and for an alternative pro-peasant policy. Our struggle will be oriented towards small, marginal, poor peasants, tenant peasants, agricultural labour, rural poor as well as the middle peasantry. In rural India, as a major impact of neo-liberal economic policy, a new class configuration emerged. There is a marked change in the rural relations.
The AIKC formulated a new 15 point charter of demands on the basis of which AIKS will build struggles in coming days. Land remains a major issue before the peasantry. Along with demands for radical land reform, we have to build up land struggle for government land, waste-land, forest land, house-sites, land rights and protection of rights of tenant farmers. New attacks on agricultural land by the corporate land grabbers have to be resisted by building broad issue-based unity. Struggles for loan waiver mainly for small, marginal, poor peasantry and middle peasants and general agricultural loan at 4 percent interest for others have to be intensified. AIKS will fight for Rs 10 lakh compensation and rehabilitation for the families of farmers who committed suicide.
Unremunerative prices of crops and price crashes are major reasons leading to falling incomes. AIKS will intensify fight for MSP as per Swaminathan Commission recommendation of C2+50 percent, fight for subsidised inputs and for implementation of universal public distribution system. Another significant area of struggle will be for proper compensation for crop loss due to natural calamities, animal attacks and crop diseases as well as effective crop insurance covering all peasants including agricultural labourers and all crops.
The alternative for which AIKS will launch struggles will include comprehensive social security legislation for agricultural labour and implementation of MGNREGA for 200 days work and a wage not less than Rs 300 per day, effective social security for the peasants and Rs 3000 as old age pension for peasants. Cooperative movement will be strengthened and farmers' cooperatives for production, distribution and marketing will be encouraged.
AIKS will join the struggles of working class against attacks on labour laws and workers' rights. It will counter all divisive campaigns and communal attacks to maintain the unity of the rural poor and peasantry and build united struggles for their rights.
It will join hands in the fight against oppression on dalits and women.