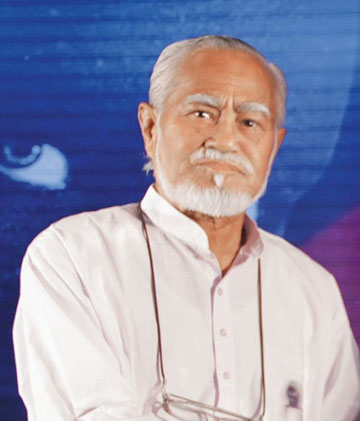 H Kanhailal: Protagonist of 'Theatre of the Earth'
Gautam Das
INTERNATIONALLY acclaimed dramatist and protagonist of 'Theatre of the Earth' Heisnam Kanhailal died on October 6 in his famous drama institute Kalakshetra in the outskirts of Imphal, Manipur. He was 75 and had been suffering from cancer. He was a member of the Communist Party of India (Marxist). He is survived by his wife Heisnam Sabitri and son Tomba.
Kanhailal was born on January 17, 1941 into a poor family at Keisamthong Thangajam, Leirak, Imphal. His father H Pishak Singh was a follower of legendary Communist leader Hizam Irabat Singh. Kanhailal passed matriculation examination in 1959 and took up drama as his profession. He founded Kalakshetra in 1969. Since then, he had been experimenting with traditions for an alternative theatre. He worked with drama exponent Badal Sarkar in 1973 for a few months. However, he did not sacrifice his own individuality and returned to Manipur. His alternative theatre could be identified with the live theatre that he ultimately conceived of as the 'Theatre of the Earth'. In this process of theatre-making, his wife Heisnam Sabitri became his major collaborator who manifested as a world-class actress.
Kanhailal experimented to locate theatre amongst the people of different social strata. Remarkable experiments were 'Nupi Lan' (historic women's war against British imperialist army) with one hundred market women of Imphal in an open air environment, and 'Sanjennaha' (cowherd) with the villagers at Umathel, a remote village in south Manipur. He worked with tribal youths (Paite community) in Churachandpur district and produced 'Thanghou Leh Liandou'. He groomed Rava tribal youths of Assam and Tripuri tribal youths of Tripura. In his drama team, he used to take boys and girls not only from Manipur but also from Assam, Meghalaya, Tripura, Arunachal Pradesh and Mizoram. They included members of both tribal and non-tribal communities. He had conducted around 15 major workshops in the past 20 years for actors from different cultural backgrounds in the country. His workshops were particularly concentrated on his actor-training system for live theatre. These workshops were organised nationally and regionally in different locations – urban and rural, and sponsored by the National School of Drama and other cultural institutions. He could draw attention of youth research scholars of the country. He was the only theatre practitioner in the country on whose work youth research scholars have been working for their M.Phil and PhD degrees, particularly those from JNU, Jamia Millia Islamia, Assam University, Hyderabad University, Manipur University, Pondicherry University and Bombay IIT. Since 2012, he had been training young practitioners from France, the USA, Sweden and South Africa.
He toured extensively with his play in both cities and rural areas in the country as well as abroad. He staged his plays 'Pebet' and 'Memoirs of Africa' in Tokyo, Toga and Ningata, sponsored by Japan Performing Art Centre in 1987. He participated in the third Cairo International Festival of Experimental Theatre with his play 'Migi Sarang' (human cage) in 1991. The play was assessed as one of the best six of the festival and Sabitri Debi won the best actress award. He also participated in the first Asian Contemporary Theatre Festival in Singapore in 2002 with his drama 'Nupi'.
His major and remarkable creations are 'Tamnalai', 'Kabui', 'Keioiba', 'Imphal', 'Pebet', 'Huranbagi Esheii', 'Laigi Machasinga', 'Mrityu Shwor', 'Memories of Africa', 'Rasamon', 'Migi Sarang', 'Karna', 'Droupadi', 'Nupi', 'Uchek Langmeidong', 'Shadowing the World Women', and 'Dak Ghar' of Rabindranath Tagore. In all his dramas there was a clear message against oppression, repression, authoritarianism and for human values. He produced a short film based on his play 'Pebet' in 1985. The film secured the best short fiction film in the international short film festival held in Kolkata in 1985 and was also shown in Panorama section of the international film festival, New Delhi.
Kanhailal was awarded many fellowships and national awards. He was awarded the Jawaharlal Nehru National Fellowship, Emeritus Fellowship and fellowships in Singapore, Indonesia and Malaysia. He was a recipient of Manipur State Kala Academy Award, Kendriya Sangeet Kala Natak Academy Award, Nitya Ratna award by Manipur Sahitya Parishad, Padmashree in 2003, Sangeet Natak Academy fellow, Tanveer award of Pune, Kamal Kumari National Award, Kalidas Samman and Padma Bhusan in 2016.
Kanhailal had a very close relationship with artists, cultural activists and the people of Tripura. He had been visiting Tripura since 1980s and staged his plays at different places in the state. He also conducted many workshops in Tripura at the invitation of Tripura Sanskriti Samannaya Kendra, the state's only umbrella organisation of progressive writers, dramatists, singers, painters, poets and musicians. He was the chief guest in the last two state conferences of Tripura Sanskriti Samannaya Kendra.
With the demise of H Kanhailal, the theatre world has lost a stalwart and the CPI(M) has lost one of its valued members. Tripura Sanskriti Samannaya Kendra, Tripura minister for cultural affairs, Bhanulal Saha, many theatre groups and cultural organizations have condoled his death. Manipur state secretary of the CPI(M), Sarat Salam and secretariat member K Santa joined in the last journey of Kanhailal.