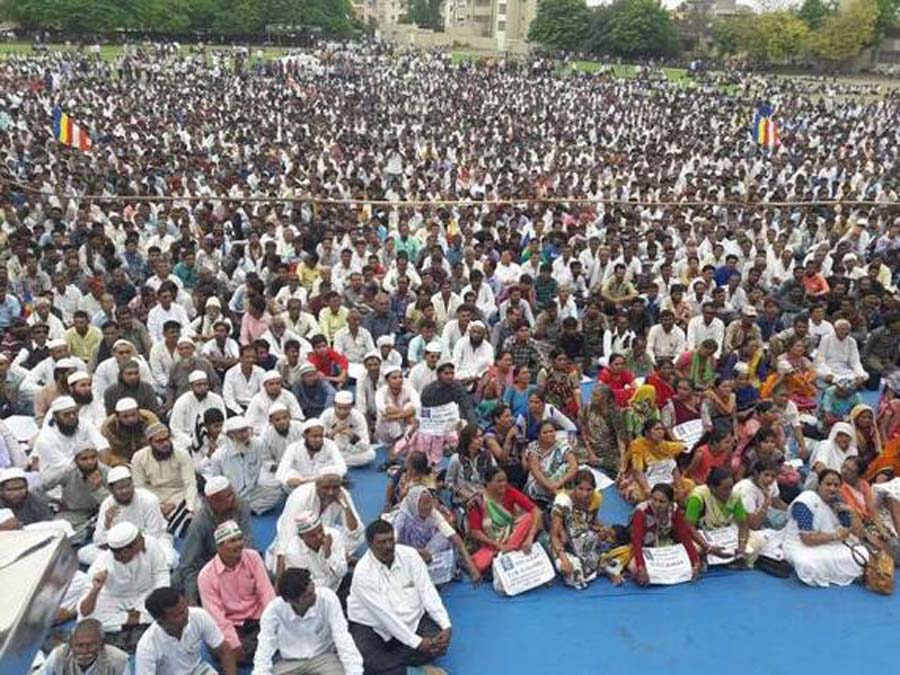 The Una Dalit Struggle and What it Holds for the Future
Vijoo Krishnan
ON July 11, 2016 four young dalits were publicly flogged and paraded around in Una, Gujarat for skinning a dead cow in broad daylight. Most inhuman kind of torture has been meted to people on the pretext of cow protection and the perpetrators in their bravado have uploaded their brutal acts on social media with utmost impunity. The incident sparked widespread protests in the state against their act and transformed into a movement for dalit rights. It soon grew into a movement that aspired to liberate them from jobs like disposing carcasses of dead cattle and manual scavenging, ensure land rights, alternative jobs and basic dignity of life. On July 31, 2016 at a Dalit Maha Sammelan in Ahmedabad, thousands of dalits pledged to stop picking up carcasses and give up occupations like manual scavenging. It also led to the formation of the Una Dalit Atyachar Ladat Samiti to seek justice for the victims of the brutal attack in Una.

Shortly after, on August 5, 2016 the Dalit Asmita Yatra was flagged off from Ahmedabad and travelled over 400 kilometres through different villages of Gujarat. Pledges were taken in village after village to shun the traditional caste based occupations of manual scavenging, cleaning sewer lines and skinning or disposing of carcasses of dead cattle. Culmination of the 10-day Yatra was planned with the Azadi Kooch on Independence Day at Una. The Una protest and Dalit Asmita Rally are a historic response against attacks on dalit lives, dignity and livelihood. It saw an unprecedented unity of purpose with different individuals and progressive groups coming out in solidarity with the unique protest.

The Modani Model and the reality
Narendra Modi and his team have worked overtime to build a myth of a "Gujarat Model" as one of inclusiveness and virtually an El Dorado - a place of fabulous wealth and opportunity. In reality what is in operation is what people of Gujarat describe as the "Modani Model" which has abundance of opportunities for corporate loot at the expense of the masses. It also gives a free-hand for the communal and casteist forces for unbridled implementation of their divisive Hindutva agenda. The Scheduled Castes (SC) or the dalits make up 7.1 percent of the total population. Landlessness, unemployment and poverty are rampant. Lakhs of acres of land have been given to the corporate houses like Adani, Ambani, Tata and the like while the people continue to remain landless. There are more than 55,000 manual scavengers in Gujarat according to a study by the Navsarjan Trust. What we saw on our trip to Una from Ahmedabad were signs of extreme poverty. Few of the dalit children we spoke to also mentioned that they faced extreme discrimination even at school and were even forced to clean toilets. Very few dalits had managed to find alternative employment and give up what they called traditionally imposed "dirty jobs". Some of them reported that they were going to Mumbai, Kerala and even to Lakshwadeep for menial jobs, painting, carpentry and in the construction sector as life was much better. There has been much hype about the "world class" roads of Gujarat. We found far too many potholes in the Modani Model of development. It took us 10 hours to cover the distance from Ahmedabad to Una which is about 350 kilometres away. Attacks by vigilante groups in the name of "Gau Raksha" on Muslims and dalits have increased after the Narendra Modi led BJP government has come to power at the centre. Incidents of public flogging, force-feeding cow-dung, stripping and parading the victims have come to light. BJP governments in the centre and different states have implicitly endorsed the violence by either refusing to take action against the culprits or even directly glorifying such acts. Different Hindutva groups and vigilante "Gau Rakshaks" are perpetrating such acts seeking to dehumanise certain communities and launch an assault on their basic dignity. Sabka Saath Sabka Vikas is a hollow slogan for the dalits who have not seen any improvement in economic conditions and have seen only an increase in brutality and violence. It was the pent up anger against growing oppression we saw emerging in the movement of the dalits.

Witness to unbound energy and sprit
When we set out to Una for being a part of the Dalit Asmita Rally and the Azaadi Kooch under the banner of the Una Dalit Atyachar Ladat Samiti we were clear that it was an act of solidarity with the struggle by the most oppressed sections of society. Solidarity actions to coincide with the Una programme were held in different states. On August 13, we heard reports that a bike-rally seeking to mobilise for the Azadi Kooch was attacked by the upper caste darbars at a village called Samter in Gir Somnath district. On August 14, the Dalit Asmita Rally had begun marching towards Una. We left from Una to join the rally but were stopped a little away from Samter by a violent mob armed with weapons and stones who had blocked the road using vehicles and boulders. They also assaulted the journalists from Dalit Camera and Two circles. It was a well planned mobilisation seeking to disrupt the march. Police are mute spectators. Armed men in motorbikes and certain motor-bike drawn carts tried to create an atmosphere of fear. On the night of August 14, more reports of attacks on people coming to the Azadi Kooch reached us and some had to be hospitalised. The threats by "Gau Rakshaks" and attacks only helped steel up the resolve and brought more people on the streets in open defiance. The march reached Una by evening taking an alternative route. We met the march at their camp and marched shoulder to shoulder in solidarity throughout Una. Dalit Shoshan Mukti Manch activists from Gujarat and Maharashtra were present in good numbers. We found that few comrades from the Tamilnadu Untouchability Eradication Front, Progressive Writers' Association had come of their own initiative. Students' Federation of India was represented by few activists from Gujarat and Hyderabad Central University. Kisan Sabha, Trade Union and AIDWA representatives were also part of the march.

The march through Una raised spirits. Slogans of Jai Bhim and calling to fulfil the dreams of Babasaheb Ambedkar, against Narendra Modi and BJP government were raised. The most popular slogan however was "Keep the Cow's Tail; Give Us Our Land". The August 15 Azaadi Kooch had an electrifying atmosphere. Thousands gathered in open defiance of all threats and attacks. Young dalits and women formed the bulk of the mobilisation. The young leader of the movement Jignesh Mevani read out a pledge to give up occupations like disposing carcasses of dead cattle and manual scavenging and demanded alternative employment as well as five acres land to all dalit families. He also called for a rail roko on the demand for land if the government does not accede to it. Radhika Vemula, mother of Rohith Vemula hoisted the tricolour and called for Struggle for Azadi from all kinds of oppression. JNUSU president Kanhaiya Kumar addressed the meeting.

The villagers of Mota Samdhiyala including the victims of the attack by "Gau Rakshaks" were forced to sit on a dharna at Una Police Station demanding action against armed gangs that are threatening and attacking people. On Independence Day they sought protection to live in their villages and their own humble homes in peace. We interacted with the victims of the flogging and their families and could sense the pervasive feeling of fear. The culprits move around scot-free even as the poor dalit families are forced to live like refugees amidst intimidation and atmosphere of fear. A dalit leader alleged that his vehicle was fired at. Film-maker Anand Patwardhan, few journalists and I along with Vikram, general secretary, SFI and a social activist Mujahid Nafees were present till they were escorted with police protection. Later the "Gau Rakshaks" and darbars attacked the Dalit rallyists and destroyed some vehicles. As we crossed Samter where opponents of the Una rally were concentrated, we could smell what seemed like teargas. Ambulances and police vehicles were criss-crossing with their sirens blaring. Numerous police personnel are reported to be injured in their attack and hospitalised. The armed goons stopped our bus looking for rally participants. But the bus was let to pass. The driver a little later assured us that we were in "safe zone". All this on Independence Day!

The Una movement involves issues that are far-reaching. The sheer nature of what it is seeking to overturn could inspire and spark off a nation-wide movement. For realisation of such a potential it would require to seize the opportunity, organise and rally around all progressive sections in solidarity with the struggle. Una could have a cascading impact and could be counted among the historic struggles against caste oppression that have become part of folklore. History beckons us to build broadest possible unity, take the message of Una to all parts of India, organise and build a movement that can forever put an end to caste oppression.