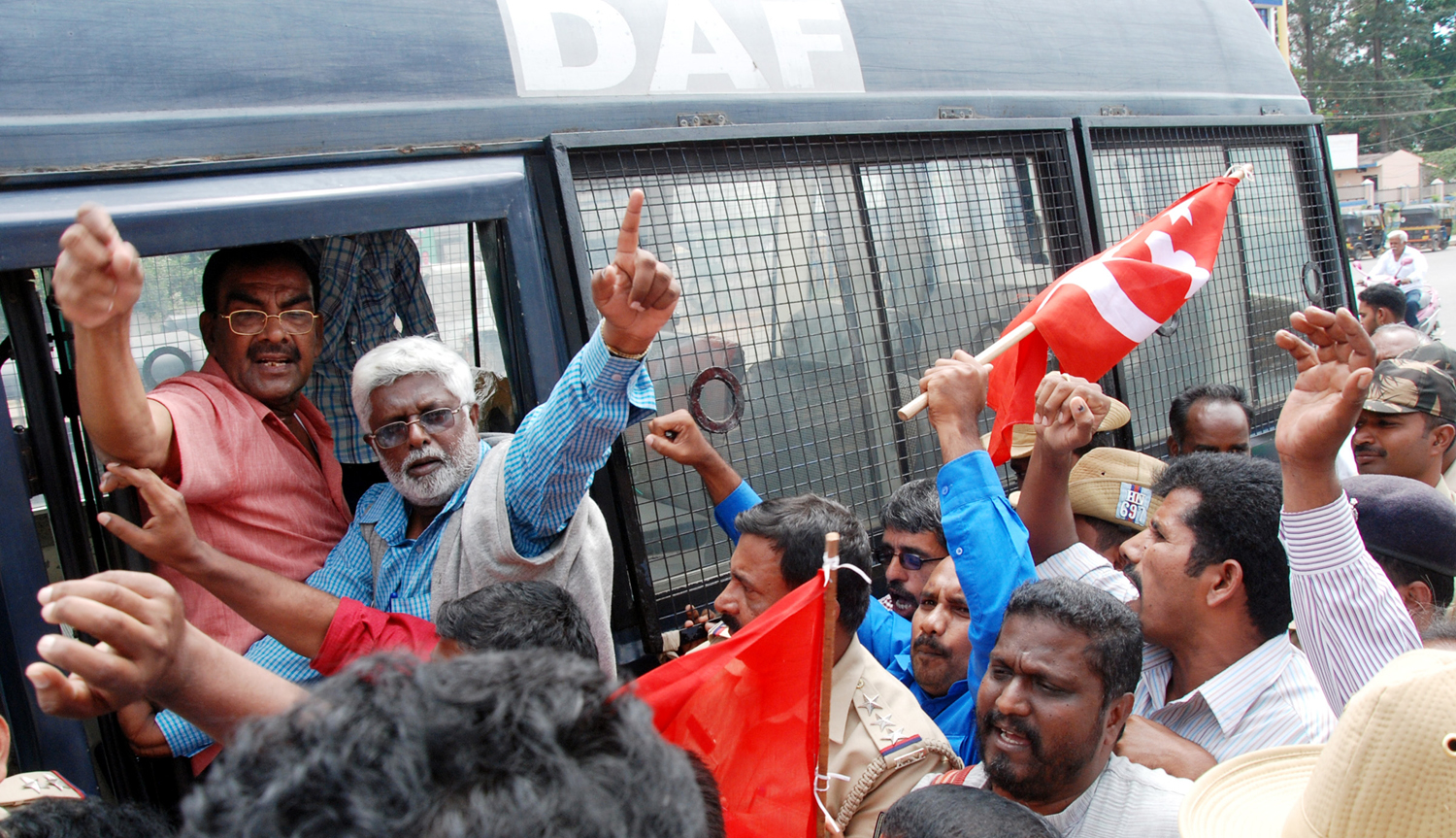 Historic Win for Sigaranahalli Dalits
NK Vasant
THIRTY members of dalit families in Sigaranahalli in Holenarasipur taluk (of Hassan district in Karnataka) on Sunday (April 24) morning offered prayers in Basaveshwara Temple in the village. For the last eight months, the dalits have been demanding entry into the temple. A movement had been launched by dalits in association with the CPI(M), DHS (Dalita Hakkugala Samiti, affiliated to DSMM) and progressive organisations, resisting powerful Deve Gowda (former PM and MP of the area) family and faltering state government which has been reluctant to take firm action against this practice of untouchability.
Hassan district administration took the temple into its custody on Saturday (April 23) evening and deputed an official of Hariharpur gram panchayat to the temple. The employee has been entrusted with the responsibility to open the temple between 8 am and 10 am and 5 pm to 6 pm every day.The district administration has assured the villagers that soon the temple would be taken to Muzrai department and a priest will be appointed.
A couple of days earlier, 'Community Hall' name board was also restored by the administration. The hall built under the MPLAD scheme in the village was taken over by Vokkaliga families, and changed the name illegally to 'Vokkaliga Community Hall' and dalits were denied entry there too. Sigaranahalli dalits were demanding entry into and right to use the 'Community Hall' also.
SIGNIFICANCE
OF SUCCESS
Sigaranahalli Temple entry movement and its success is important for several reasons. Here 30 dalit families waged an unrelenting struggle for eight-months, braving physical attacks, social boycott, arrests and virtual siege. Vijay, a young journalist in a major Kannada daily, who filed the first complaint, was transferred and eventually lost his job. They took on the full social/economic/political might of the Deve Gowda family and defeated it. In fact, the district administration was completely under the control of the Deve Gowda family (MP and MLA being from same family). This is the first 'success' amongst several struggles launched by the CPI(M) in Karnataka against social oppression in the last couple of years. Such struggles include ones against – Made Snana/Pankti Bheda in Udupi/Kukke Subramanya Temples, murder of dalits in Chamarajanagar, refusal of haircut for dalits in Markumbi.
CPI(M), Dalita Hakkuga Samithi, dalit/progressive organisations stuck together displaying remarkable unity, and took the fight to district and state level – stage by stage. This struggle thoroughly exposed the CM Siddaramayya's slogan of 'AHinDa' (coalition of Minorities, OBC and Dalits) as farce. District in-charge minister and home minister both being dalits did not even bother to visit the village, let alone standing with them or solving their problems. Ultimately, the district administration had to act when a 'Sigaranahalli chalo' from various parts of the state, was announced for early next month, in a joint press conference of the CPI(M) and dalit/progressive organisations held at Bangalore on April 22. Deve Gowda family was thoroughly exposed, former PM and his sons openly defending untouchability and displaying their caste bias. Deve Gowda recently regretted publicly 'seeing such (dalits defying his diktat and demanding temple entry) a day in the late stage of his life'.
EIGHT MONTHS
OF STRUGGLE
Sigaranahalli 'episode' was triggered interestingly by 'celebration' of a Stree Shakti Sangha (an SHG) on the occasion of sanction of loan on August 31, 2015. Members of the Sangha which included dalit women offered special puja in the temple, for which there was no objection from other members or the priest. However after the puja, one person objected to it and abused dalit women using casteist obscene language, and complained to village 'elders'. 'Elders' met the same evening, condemned the Sangha members' act, fined the Sangha for Rs 1000 apart from ordering cost of 'purification' of temple. Dalit youth who protested the decision were attacked. They decided to complain to the police. At this point, the CPI(M) and its Dalit Rights Subcommittee (now Dalita Hakkugala Samithi, DHS) intervened along with other dalit/progressive forces.
The struggle passed through many stages and forms, with dalit families at its core, like: padayatra to District HQ against social boycott in September 2015, state-wide jatha of DHS in December 2015, dharna/hunger strike in front of the DC office in April for allowing dalit participation in temple festival, dharna on Ambedkar's 125th Birthday, culminating in a press conference on April 22 calling for 'Sigarnahalli Chalo'. Under the relentless pressure of dalits' struggles, the district administration made some attempts to facilitate temple entry and participation, particularly in April. But officials, police personnel and journalists were attacked with stones by supporters of the Deve Gowda family. Police filed several cases and they were arrested. Deve Gowda and his sons held demonstrations on streets and in front of the DC (which has never ever happened in the history of Karnataka!)
Dalits of Sigaranhalli, having won the battle for temple and Samudaya Bhavan (community hall) entry, are determined to assert themselves in other spheres too. They are also prepared for any further attacks. Plans are on to take the movement to other villages, and win over democratic sections and isolate casteist elements in other communities.