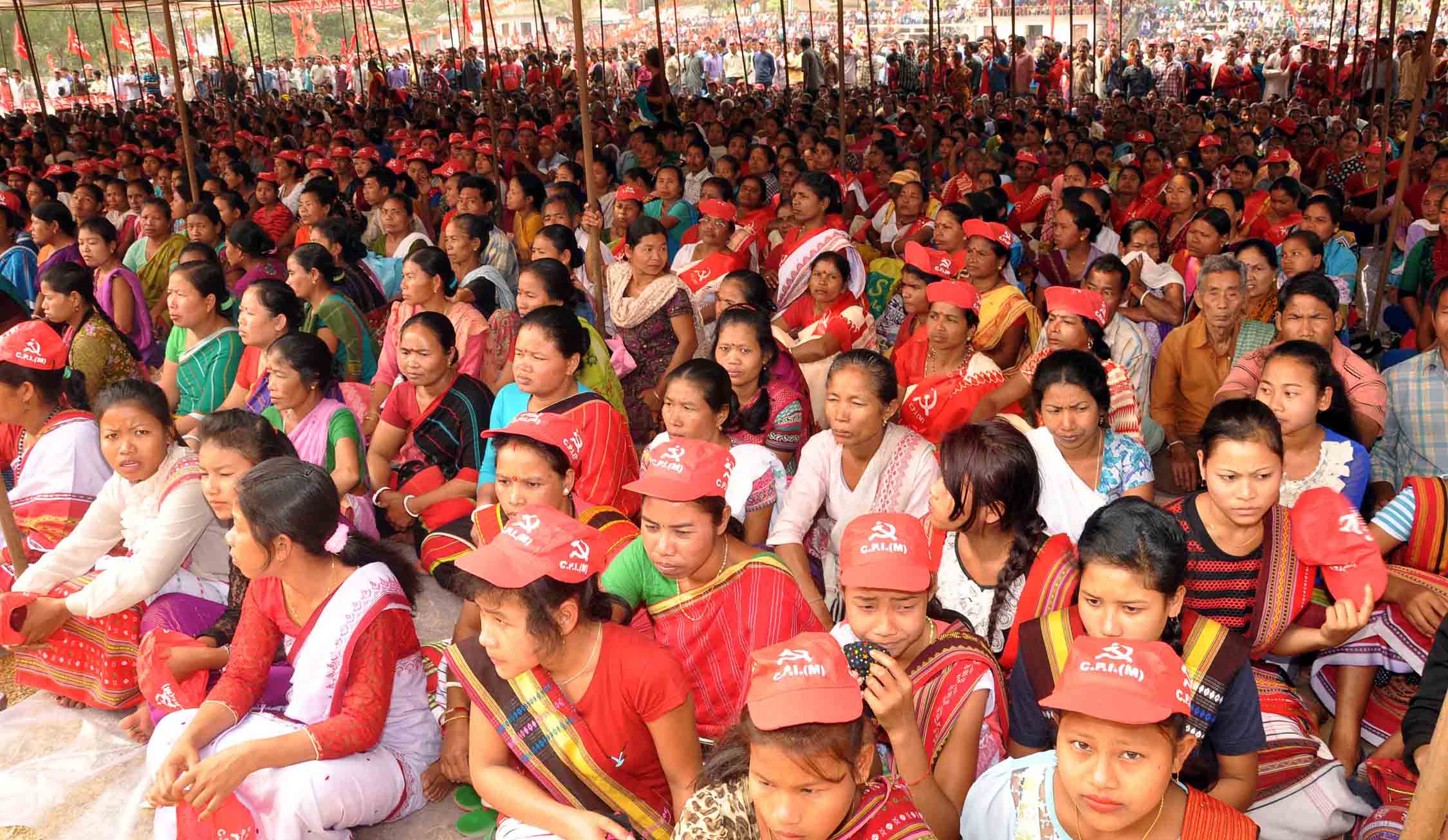 Tripura: Left Front Set for Victory in ADC Elections
Haripada Das
AFTER registering a sweeping victory in urban local body elections in the state in December last, the Left Front in Tripura has plunged into another electoral battle. Election to the village committees under Tripura Tribal Areas Autonomous District Council (TTAADC) will be held on February 24. The counting will take place on February 27.
A total of 7,66,946 electorate will elect 4,597 representatives in 587 villages spread across 52 blocks of the state. Village Committees in TTAADC areas are equivalent to gram panchayats in non-ADC areas. The withdrawal of nomination got over February 9. The Left Front fielded its candidates unitedly in all the 4,597 seats. Not a single opposition party was able to put up candidates in all seats. Left candidates have won unopposed in 53 villages. In 36 other villages, the Left Front secured victory by winning majority of the seats uncontested. Out of 4,597 seats, Left Front is going to win 902 seats unopposed.
Polling would be held only in 3,695 seats. While Left Front candidates are there in all those seats, numbers of candidate of other opposition parties are: Congress 601, BJP 983, IPFT 1,739, INPT 784 and Independent and others 397. There has not been a single allegation of threat and intimidation by the ruling party workers that may be showed as an excuse by the opposition parties for so poor number of nomination by them. The real reason is alienation of the opposition parties who utterly failed to motivate people to contest on their tickets.
It is clear that the Indigenous People's Front of Tripura (IPFT) is the main opposition party in this election. IPFT, a breakaway group of INPT, enjoys blessings and ideological boosting from NLFT extremists. At the dictate of NLFT extremists, they raised most provocative slogans for creation of separate state with the existing TTAADC and deportation of all Bengalis who came to Tripura after 1950. The slogans are similar to those of NLFT extremists' demand for 'Independent Tripura' and 'anti-Bengali jihad'. The public memory is still vivid to remember the 2000 TTAADC election which was totally rigged by NLFT gunmen to make IPFT leaders sit in TTAADC office. During their tenure, huge ADC fund was siphoned off to the outlawed extremists. The TTAADC headquarters was transformed to a den of extremists. The people of Tripura suffered burns of the extremism for decades and sacrificed lots of lives and properties. In the long run, peace and tranquility had been restored. They are now feeling secure amid harmonious relations between various religious and ethnic sections. Thus, the people of the state will not allow return of bloody days by the secessionist elements.
As far as Congress is concerned, they are traditionally non-existent in tribal areas. They vehemently opposed formation of TTAADC in 1980s. They denied tribal people reservation in job and education as enshrined in the Constitution during their rule up to 1978. They rejected the demand for recognition of 'Kokborok', the mother tongue of majority tribal people, as state language. During their rule, they encouraged random transfer of tribal lands to non-tribal hands flouting all legal provisions to protect the tribal ownership on land. Thus, the general tribal masses of the state believe Congress as anti-tribal.
Similarly, BJP had never any strong base in the state. Only after the Congress was unseated from power at the Centre, a section of Congress followers swamped to BJP and inflated their vote ratio to some extent. But their communal agenda will never be accepted by the peace-loving democratic people of the state. Praveen Togadia, an RSS ideologue, recently came to Tripura to spread Hindutva venom against the Muslim community of the state. He addressed five meetings in North Tripura. In those meetings, he argued for cancellation of 'Indira-Mujib' agreement to facilitate Hindus of Bangladesh to enter Tripura. If necessary, they may be rehabilitated in a territory invading a part of Bangladesh, he suggested. He also demanded deportation of all Muslims who came to Tripura after 1951. He asked to identify those on the basis of electoral roll of 1951. Such low graded anti-Muslim perversion was condemned by all sections of people of the state.
INPT, (erstwhile TUJS), a traditional electoral ally of the Congress severed ties with it after the 2014 Lok sabha election. They are now trying to ally with BJP. But considering no electoral gain to ally with a party having no worthwhile mass base, BJP is showing no interest to have a tie-up with INPT.
In the first phase of the Village Committee election, the Left Front has reasons to be happy, not because they won a good number of villages uncontested but for the success in isolating all communal and divisive forces. The Left Front is very much aware that the opposition camps may go for an immoral understanding to give a united fight against the Left. In many places, they had seat adjustment to ensure direct contest against the Left Front. It is expected that where more than one opposition candidates are on the fray, they would project one candidate as serious, putting others non-serious to prevent split of opposition votes. Much before the election was declared, Congress, BJP, INPT and IPFT were discussing such electoral tactics.
Simultaneously, by-election to the Amarpur assembly constituency will be held on February 13. This by-election was necessitated following resignation of the MLA. While election campaign for Village Committee is going on in all parts of ADC, campaign for assembly by-election is also going on in full swing. Both in village areas as well as in by-election areas, the Left Front is far ahead of the opposition in campaign as well as in respect of mass mobilisation.
Finding no viable issues against the Left Front and the state government, some of the opposition parties namely BJP, IPFT, STP (Separate Twipraland Party) etc. resorted to parochial tactics to divide the people with communal and ethnic line, spread hatred and mistrust to break the age old amity and fraternity among the people of the state. IPFT, formed with the demand for a separate state with the existing ADC areas, is trying to mislead a section of tribal youths to create unrest. Other parties like Congress, BJP and TMC, though don't overtly support this "separate state" demand, don't actively oppose this demand. The Left Front is very much alert about this evil design.
The Left Front, during its campaign, highlights developmental programmes of TTAADC and the state government that helped uplift of the tribal people in spheres of economy, education, health, dwellings, drinking water and in cultural fields. It is also mentioned in the campaign that so far the development accomplished by the Left Front government it was possible only because of the prevalence of peace, tranquility and harmonious relations among various sections of the people. This is a precondition of progress and development of any state. Left Front leaders warn the people to keep their vigil against whoever tries to break it. Left leaders are unequivocally refuting the opposition demand for a separate state with irrefutable reasons and logic. It seems that our sustained campaign had an impact on a section of the opposition followers who are gradually thinning down day-by-day. Left leaders also propagate against the anti-people and pro-corporate economic measures, Hindutva aggression of the RSS-led Modi government at the Centre and their intolerance against other religious and minority community which is detrimental to the national integrity and unity.
The Left Front leaders say the outcome of the village committee elections in Tripura would herald before the country an alternative approach to the tribal development which would inspire innumerable tribal masses in other parts of the country in their struggle for democratic and economic rights.