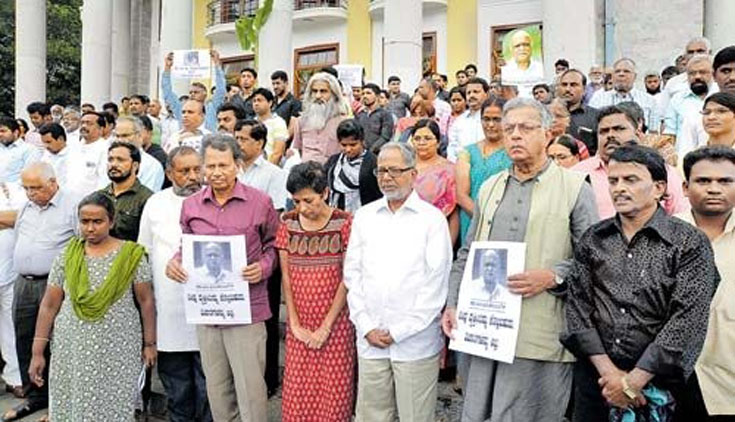 Cultural-Democratic Upsurge in Karnataka Post-Kalburgi Killing
Vishwa
AFTER the barbaric killing of scholar-writer M M Kalburgi at Dharwad on August 30, 2015, Karnataka has been witnessing an unprecedented cultural-democratic upsurge in order to put a stiff resistance to the draconian forces of religious fundamentalism. A shocked fraternity of literary and cultural fields, intellectuals and people from various sections of society did not stop at mere condemnation of the assassination of Dr.Kalburgi, but has been working persistently to build up a resistance movement to fundamentalist/obscurantist forces. Besides individuals, a number of cultural forums such as Karnataka Sahitya Akademi and theatre repertory Rangayana, notwithstanding their government association, came out openly to register protest against the killing of one of the respected scholars.
Dharawad Protest
Protests were held across Karnataka to condemn the killing as well as wider sinister game of the fundamentalist forces to stifle the voice of rationalists and democratic forces. A number of personalities returned their awards. Particularly, true to its tradition of being a land of the 12th century social revolution led by Basaveshwara, the North Karnataka region witnessed a spurt of activities -- cultural and literary. The region is also known for Sufism and Bhakti (devotional) movement tradition. Dr. Kalburgi was well known for his researches which were establishing links of the lost non-Vedic culture, and were not palatbale to the religious fundamental forces which want to enforce mono-culture on India.
Dr. Kalburgi's killing was seen as a continuation of attempts to stifle the voice of dissent and rationalism as was witnessed in physically annihilating the great reformer Basaveshwara and many others in the annals of history. A mammoth rally was held in Dharawad on Setember 14, 2015 to send a strong message to the fascistic forces. Addressing the public meeting, Karnataka Sahitya Akademy Chairperson Malati Pattanashetti said just arrest of the accused in Kalburgi's killing will not suffice. "The game plans of communal forces in the state should be stopped and future of our children should be protected. We will not rest till then," she said. Since then the protest has been spreading to most towns and cities of the state. In most places, the upsurge did not stop with protest but continued to build up a resistance to fundamentalist/obscurantist forces. In many places, platforms of all democratic secular individuals have sprung up, carrying the resistance forward.
Kalaburgi Movement
The protest movement was at its best in Kalaburgi, a North-East district in Karnataka. A huge procession was held in Kalaburgi on September 24. About 5,000 people including writers, students and progressive thinkers participated in it. The functionaries of various organisations which conducted the rally decided to continue the struggle by giving it a concrete organisational shape. Instead of responding to any incident, it is better to take up the issue on a continued basis, was the resolve of that meeting. As a result, the Forum for Secularism (Souharda Bharata) came into existence comprising 48 outfits. It was decided that the work of Prof. Kalburgi and the values he stood for and sacrificed his life should be taken to the common people.
Accordingly, in association with the Sahitya Akademy and Gulbarga University Kannada Lecturers Association, a seminar was conducted on October 15 and 16 at Kalaburgi. The seminar was inaugurated in a different fashion i.e. with returning of awards by R K Hudagi, K Neela and Dr Kashinath Ambalagi. Dr Mrityunjay Male, Dr C Veeranna, S G Siddaramaiah, Kalyanrao Patil, Dr Shantamath, Dr Vasanth Nashi, Sanganna Tadakal, Dr Meenakshi Bali, Neela K, K Prakash and others spoke on various aspects. Sagar, representing Andhashriddha Nirmoolana Samiti, Latoor in Maharashtra, and Shivaraj Inginashetty, the slain scholar's grandson were present and spoke at the seminar. The Forum for Secularism has decided to hold an eleven-day drama festival by Rangayana on Vachanakars. The Sahitya Akademy will bring out a collection of articles written by Prof. Kalburgi. The Kalaburgi movement has become a model for other districts to follow, of building a sustained grassroots secular, democratic movement.
Sustained Movement for Anti-Superstition Bill
Even as thousands of people were taking to the streets against the growing intolerance and for secularism, one more incident of physical intimidation of a writer took place in Karnataka. Uchangi Prasad, a journalism student and young Dalit writer from Davanagere, has been subjected to harassment by the pro-Hindutva forces. Protests were held against the attack on Prasad across Karnataka including in Bengaluru, Mangaluru, Davangere, Tumakuru.
Every attack of intolerance is galvanising the secular democratic forces. Such forces got together in October itself and wanted to build a sustained campaign. They also decided to pay a befitting tribute to the three martyred thinkers – Dr. Narendra Dabholkar, Comrade Govind Pansare and Prof. Kalburgi. It was decided that an Anti-Superstition Bill would be such a tribute. A six-week sustained statewide campaign has been planned by a coalition of progressive political parties, mass organisations, people's movements, cultural movements, writers, artists, intellectuals and also religious institutions opposing obscurantism. After a four-week sustained campaign through taluka and district-level meetings, jathas, seminars and lectures, memoranda were submitted in all districts to distrcit collectors on October 30. A Huge public meeting and state-level rally is planned in Bangalore on November 16.
Since the post-emergency situation, Karnataka has not witnessed such a democratic-cultural upsurge. (END)