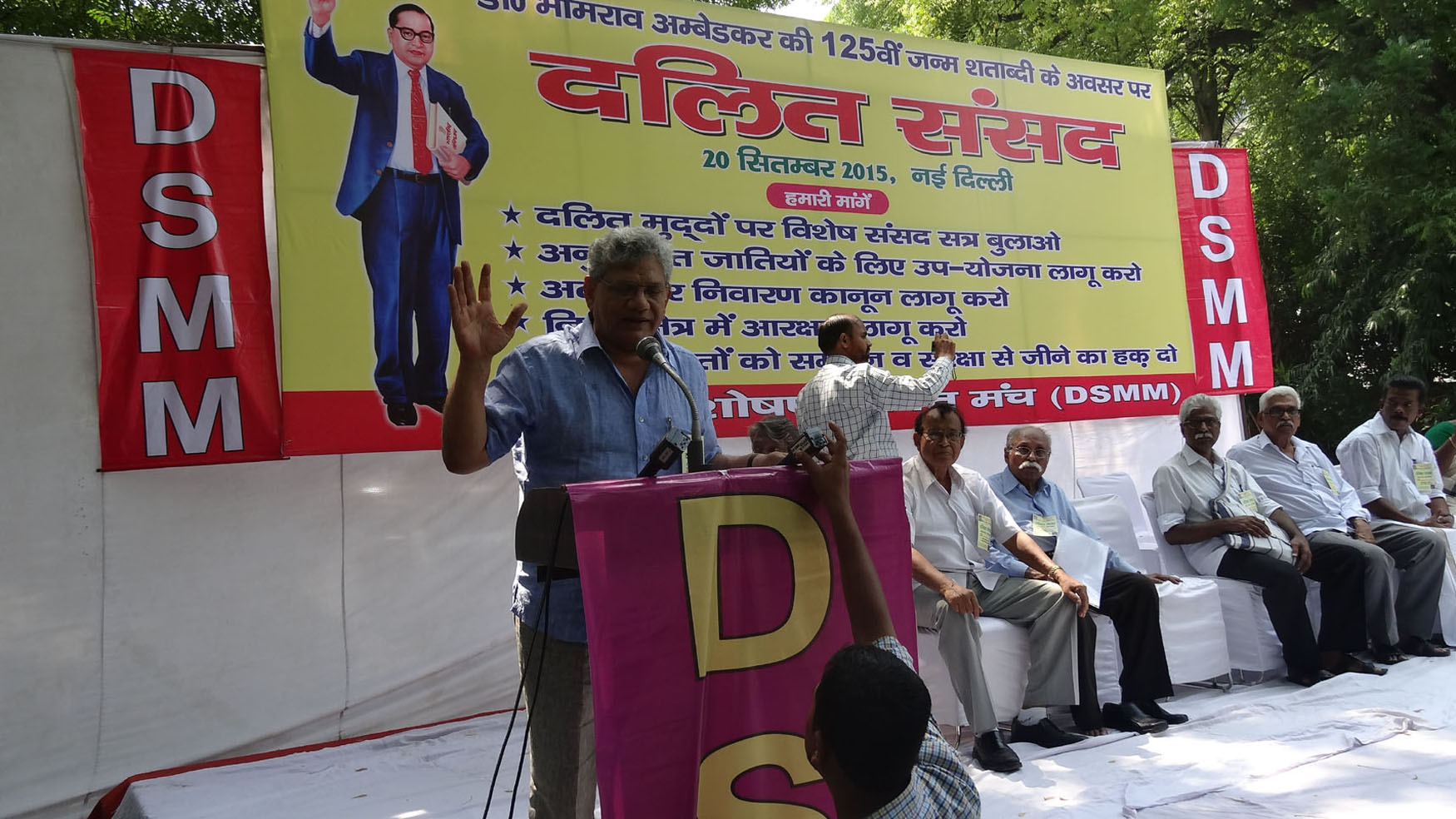 Dalit Parliament Demands Special Session of Parliament
Satyaki S
THE Dalit Parliament (public meeting) organised by the Dalit Shoshan Mukti Manch on September 20 at Jantar Mantar in New Delhi demanded the Government of India to enact laws providing reservations for dalits in the private sector, providing statutory status to the SC/ST Sub-Plan, to pass the SC/ST Prevention of Atrocities Bill 2015 in the winter session of parliament, to launch a special mission to eradicate untouchability and organise a nationwide special propaganda campaign against social oppression and caste discrimination. The meeting demanded that on the occasion of the 125th birth anniversary of Dr B R Ambedkar, the government should hold a special session of parliament to discuss issues connected with the status of Scheduled Caste communities in India. Earlier, on September 19, the DSMM had organised a national seminar on issues faced by dalits
Asimbala, co-convenor of the DSMM, presided over the meeting. Radhakrishnan, convenor of the DSMM presented the declaration of the Dalit Parliament in English and Nathu Prasad, DSMM leader from Delhi presented the Hindi version of the declaration. The declaration noted that with the advent of neo-liberal policies, the condition of dalits has worsened. Successive central governments have blatantly pursued exclusionary and discriminatory policies towards the rights and entitlements of the Scheduled Castes. As a consequence of neo-liberal policies, the people of the Scheduled Castes had to face a reduction of their legitimate share in national resources. The mandated allocations to the Scheduled Caste Special Component Plan were never made according to their population ratio. Though many requests were made by several organisations including the DSMM, the government had never considered them seriously. It emphasised that with the dwindling opportunities of employment in the public sector, the need for reservations in private sector is all the more immediate. Reiterating that the practice of untouchability and different forms of violence against Scheduled Caste communities continue unabated, the declaration demanded that the SC/ST Prevention of Atrocities Bill 2015 should be passed at least in the upcoming winter session of the parliament.
The declaration underlined that the Manual Scavengers Act is also yet to be implemented. It is shocking to note that despite manual scavenging being banned, the Modi led government had listed this as a job in the National Career Services portal that was launched recently as part of the Skill India campaign. The job profile of a "Safai Karamchari" and a "scavenger" was listed as being "mildly hazardous or dangerous" – putting them in the same category as "astrologer". Such is the ideology of this government which is guided by its communal agenda.
Addressing the Dalit Parliament, CPI(M) general secretary Sitaram Yechury said that the CPI(M) wholeheartedly supports the demands raised in the declaration and underscored that India can never become modern in the true sense if atrocities, untouchability and attacks on dalits continue. In order to remove these evils, fight – both inside and outside the parliament – needs to be strengthened. The fight for economic empowerment and social equity needs to be waged simultaneously, he said.
P S Krishnan, eminent activist for dalit rights, speaking at the Dalit Parliament demanded land for every SC/ST family, opportunities for skill development and education for dalits and tribals, in order to bring about an improvement in their situation. He said that Dalit Parliaments like these should be held before every budget session.
A K Padmanabhan, CITU all India president addressing the gathering, assured the support of the workers and toilers of the country to the issues concerning the dalits.
D Sheelam, MP and convenor of the SC, ST Parliamentarians Forum attend the Dalit Parliament and expressed solidarity with the issues raised in the declaration. He said that efforts would be made to raise these issues in the parliament.
G Mamatha from the DSMM Centre also addressed the gathering. From fraternal organisations, Jatin Choudhary, MP (Adivasi Adhikar Rashtriya Manch) N K Shukla (AIKS) Vikram Singh (SFI) Sehba Farooqui (AIDWA) Brijlal Bharati (AIAWU) spoke and expressed solidarity to the programme.
Dalit Parliament concluded with a call to the entire democratic minded people to join hands to bring about social justice in the country. It appealed all the progressive organisations and groups to come together in this fight against caste oppression and discrimination and resolved to build broadest unity of all forces to build a casteless society in our country.
DSMM Organises Day-Long Seminar on Dalit Issues
WHERE do dalits stand today in respect of human development index? Why does economic and social oppression of dalits persist even today? What is the impact of globalisation on dalits? Why caste has never led to a civil war in India as class in France and colour in the US? Where does the dalit movement stand in the country today?
These were among the questions raised and discussed at a day-long seminar organised by the Dalit Shoshan Mukti Manch (DSMM) to mark the 125th birth anniversary of Dr B R Ambedkar. The national seminar on dalit issues, held at BTR Bhavan in New Delhi on September 19, was part of a two-day campaign programme of the DSMM. A total of 125 delegates from 18 states attended the seminar.
The inaugural session was presided by DSMM convenor and former Kerala assembly speaker K Radhakrishnan, and former chairman of the University Grants Commission (UGC) Sukhadeo Thorat delivered the inaugural address. Radhakrishnan highlighted a few recent incidents of caste-based discrimination, atrocities and violence against the dalit community across the country. Atrocities perpetrated on dalits in different parts of India have been continuing unabated despite special laws, but the government is yet to initiate targeted action to stop such attacks. The attitude of successive governments toward dalits has been apathetic and there is no account of the money spent on the welfare of SC and ST communities, he said.
Thirty-seven percent of the dalit population is experiencing untouchability even today. Even after more than six decades of Independence, severe harassment of dalits still continues across the country except in states of West Bengal, Kerala and Tripura where the Left has been in power, Radhakrishnan said. Caste-based discrimination, atrocities and violence against the dalit community can be stopped only through awareness of both dalits and non-dalits, he stressed and called for mass mobilisation of dalits under the banner of DSMM.
In his inaugural speech, Prof. Thorat said the rate of improvement of dalits in all human development indeces is lower than that of other communities. The gap between dalits and non-dalits is widening though there has been some improvement in access to education, healthcare and in economic sphere. Whether it is poverty rate or under-5 child mortality or in any other human development index, government data shows that dalits are lagging behind other communities.
Why does this disparity persist? According to Prof. Thorat, for upward mobility one must have either land ownership, or private enterprise and business, or job. But dalits have been discriminated against on all three counts. They have been lagging behind in the job market because of lack of access to education, while denial of access to capital debars them from business opportunities. They are also denied right to land ownership. The high incidence of landlessness among dalits is the result of customary restrictions on ownership of agricultural land. Even today, dalits suffer from discrimination and even exclusion from access to agricultural land.
Evidence from studies indicates that a high proportion of the atrocities and violence directed against them are related to land issues. Prof. Thorat says no other religion has got into property rights more than the Hindu caste system. Religious restrictions on property rights and education had led to further marginalisation of dalits. He said caste discrimination in social and economic fields makes a dalit poor more impoverished than an upper caste poor, and called upon the Communists to look into Ambedkar's suggestions in this regard and see how much of it can be used now for protection of dalits from discrimination and for their welfare.
Addressing the inaugural session, former IAS officer P S Krishnan called for an end to discrimination against dalits and said we as a country are lagging behind countries like China because we are not allowing a large section of our people to realise their potential completely. We have to mainstream dalit issues and see how we can ameliorate their exploitation and discrimination.
The first session, titled 'Globalisation and dalits', was presided by CPI(M) Central Secretariat member V Srinivasa Rao. Addressing this session, IIT-Kharagpur professor and dalit activist Anand Teltumbde defined globalisation as an euphemism for imperialist strategy of capitalism during crisis. He said dalit intellectuals' first response to globalisation was that it would be beneficial to the community, but over time their belief was proven to be wrong. The dalit community was, however, indifferent to globalisation in the beginning. But after massive privatisation and disinvestment initiatives by successive governments at the centre post economic liberalisation of early 1990s and further deprivation of the community, dalits started uniting to resist such moves and protect their interests. However, what globalisation does to the lower strata of society is that it drives a wedge between the community so as to weaken their united struggle. He also warned against "commodification" of the dalit movement and laid stress on coming together of dalits and Communists to meet today's challenges.
In the second session, presided by G Mamatha of DSMM, various social aspects concerning the dalit community were discussed. Speaking on 'legal provisions against social oppression and reality', former Karnataka High Court judge Justice (Retd.) Nagamohan Das said dalits have suffered intense and extensive social and economic discrimination because of caste system. Untouchability and various other forms of discrimination still persist in the society. Referring to a recent study carried out in Gujarat, he said more than 100 various types of atrocities on dalits were prevalent in the state whereas laws recognised only 18 forms, and called for strengthening of the legal and criminal justice systems in the country. Mere framing of laws is not sufficient to stop atrocities and discrimination against dalits. The laws need to be implemented effectively, he said.
Noted dalit rights activist Kancha Ilaiah discussed the issue of dalit oppression in the light of the mode of production theory of Karl Marx. He said the upper caste Hindus - brahmin, kshatriya and vaishya - never took part in the mode of production but controlled much of the produce through oppression of shudras, the only productive group in the Hindu caste system. He said the upper castes used religion and spirituality for effective control of the vast majority of Hindus belonging to SC and ST communities. Oppression of and discrimination against dalits was rampant and pervasive in Hindu society. Then why has caste never led to a civil war in India as class in France and colour in the US, he asked. Because, as Ambedkar said, hierarchical caste system through this spiritual mechanism prevented a caste war. He said Hinduism is the only religion which does not treat its subjects equally. Prof. Ilaiah said while our Constitution mandates right to religion, a person belonging to the lower caste cannot become the priest of a temple.
Terming Hinduism as "spiritual fascism", Prof. Ilaiah said the Hindutva forces are killing rationalists like Narendra Dabholkar, Govind Pansare and MM Kalburgi because they know if rationalism comes to India then Hinduism will not survive. He called upon the Communists to take up fight for cultural and economic liberation of dalits. Speaking on the recent controversy surrounding ban on beef, Prof. Ilaiah said beef ban is an attempt to impose upper-caste culture on other Hindus. Stating that India is country of symbols, he stressed the importance of using a counter-symbol to effectively take on Hindutva propaganda.
Speaking on 'politics of affirmative action and the results', Delhi University professor Ashwini Deshpande emphasised the importance of reservation. She dismissed claims that reservation introduces inequality and is against merit. Reservation is not anti-merit, instead it increases diversity leading to better results. She said, however, despite the policy of reservation, the gap between dalits and upper castes is increasing. Reservation, though it covers a small section in the government sector, is an important aspect of the fight against caste discrimination.
In the final session, Jawaharlal Nehru University professor Sudha Pai spoke on 'dalits and democratic movements'. She said the dalit movement is still weak in many parts of the country due to unequal development of dalit consciousness. She said the dalit movement was part of the larger process of democratisation since Independence and an upsurge from below has constructed a new identity of the dalit. Prof. Pai categorised the dalit movement along three strands: grassroots assertion, political parties, and middle-class activism. The dalit movement has so far been able to question, with some degree of success, but not overcome, the upper caste domination and oppression and introduce transformation. This session was presided by CPI(M) Polit Bureau member B V Raghavulu.
In his concluding remarks, Raghavulu said the day-long seminar equipped the participants with insights into various issues concerning dalits and it would help the Left workers intervene effectively in various matters. While we must initiate struggles against caste-based discrimination against dalits, it should not be separated from class struggle. Class and caste struggle must go hand in hand.