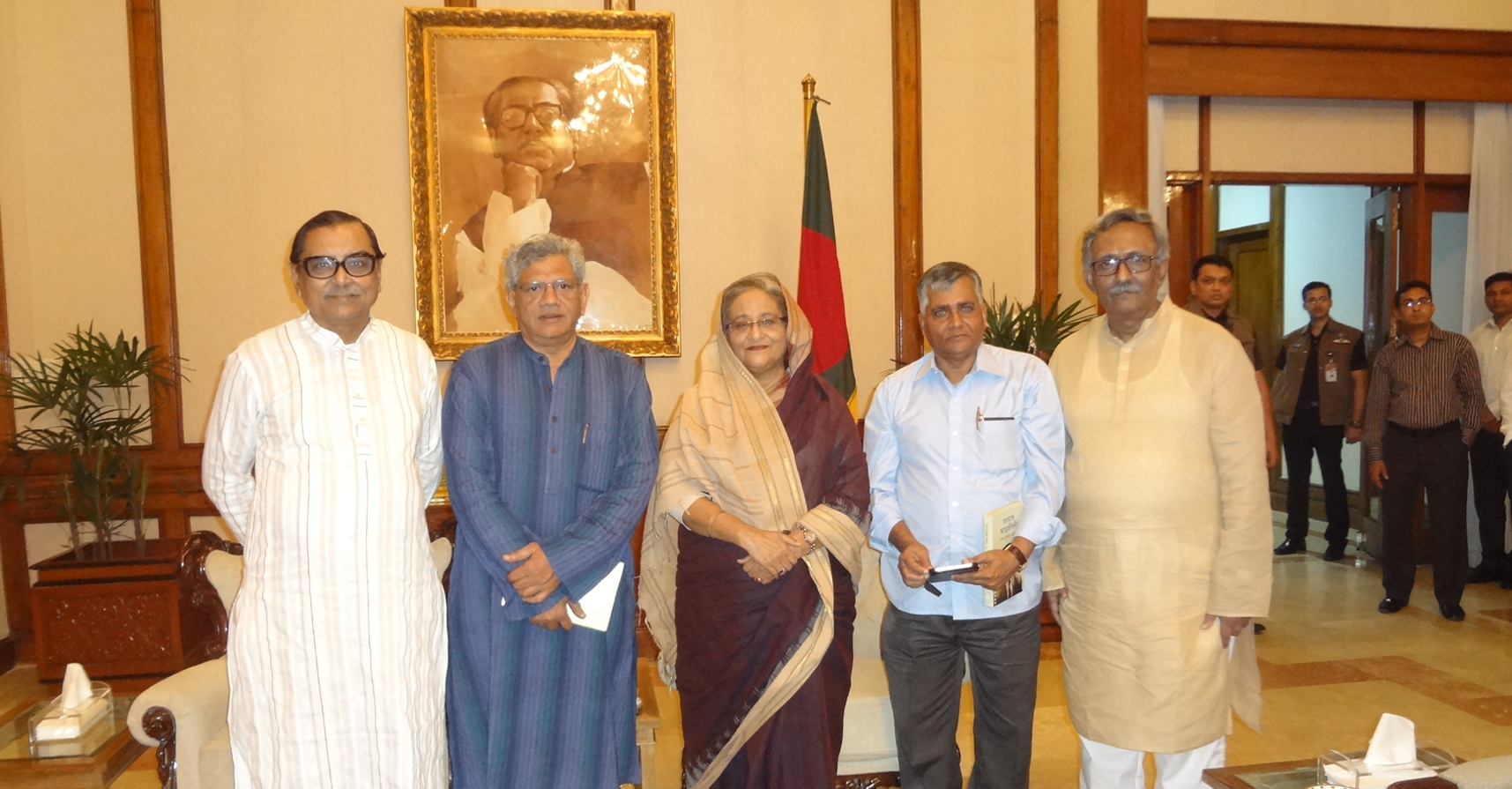 CPI(M) General Secretary Meets Bangladesh PM
CPI(M) general secretary Sitaram Yechury met prime minister of Bangladesh Sheikh Hasina at Dhaka on May 29. He was accompanied by CPI(M) Central Committee member Gautam Das. During the meeting that lasted for more than 40 minutes, Sheikh Hasina thanked the CPI(M) for its endeavour in the successful endorsement of the Land border agreement in the Indian parliament. Yechury noted that the problem was longstanding and all the political parties have helped towards its resolution. He expressed hope that the bilateral relationship between India and Bangladesh shall be further strengthened in the coming days. Sheikh Hasina said her country was eager to further deepen mutual cooperation with India and all its neighbours for the betterment and welfare of the people of the region. She expressed hope that the trade agreements being signed between the countries of the region shall be beneficial for the people. Yechury hoped that the outstanding issues between India and Bangladesh shall be resolved during the upcoming Bangladesh visit of Prime Minister Narendra Modi. Hasina too said that she was looking forward to such a successful engagement between the two countries during the visit of the PM of India.
Participating in the discussion, CPI(M) Central Committee member Gautam Das thanked the government of Bangladesh for allowing the supply of food grains to Tripura as the mega block continues in the state due to gauge conversion of rail tracks and for the help extended in the transportation of heavy machinery needed for the Palatana power project. He also reminded her about the invitation extended to her by Chief Minister Manik Sarkar to attend the inaugural ceremony of the Muktijuddho Memorial Park in Tripura. Sheikh Hasina said the people of Bangladesh have a special soft corner for Tripura and its people who offered food, shelter and all kinds of help during the liberation war of Bangladesh. She acknowledged the invitation and said that she will surely attend that function. She said, for the success of the land border agreement, she had thanked all the chief ministers of the states of India having land boundaries with Bangladesh including Manik Sarkar. She referred to the role of the CPl(M) and Comrade Jyoti Basu during the days of the liberation war. She also mentioned about how Comrade Jyoti Basu had showered affection on her and her sister Sheikh Rehana and helped her in resolving the Ganga water sharing issue and how he had on a number of occasions gave her valuable suggestions. The meeting was held in a very cordial and frank atmosphere. From Bangladesh side, the meeting was attended by Dr Gouhar Rizvi, the advisor on external affairs to the PM of Bangladesh, Rashed Khan Menon, president of Bangladesh Workers Party and minister for civil aviation and tourism, Obaidul Kader, MP and minister for road and bridge transport, Fazle Hossein Badsha, general secretary of Bangladesh Workers Party and Begam Suraiya, principal secretary to the prime minister of Bangladesh.