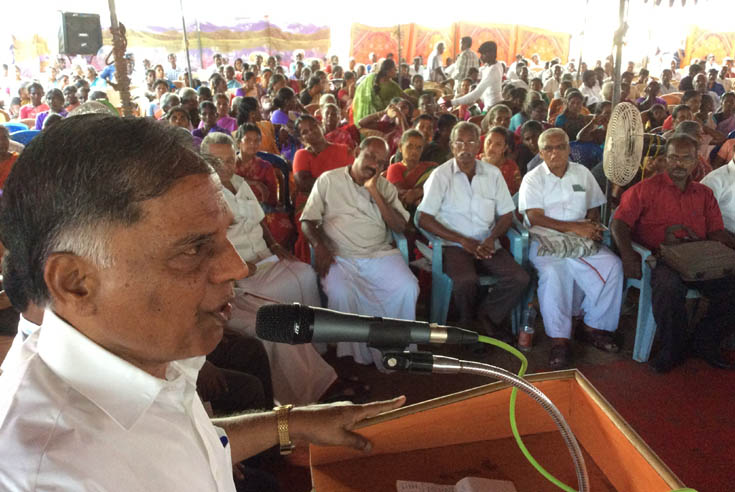 CPI(M) Workers Protest Spurt in Murder in TN
S P Rajendran
CONDEMNING the spurt in cases of murder, many of them due to caste issues, in Thirunelveli and Tuticorin districts of Tamil Nadu, CPI(M) cadres observed one day's fast on March 31. Led by Party state secretary G Ramakrishnan, more than 2,000 cadres observed the fast at Jawahar Grounds, Palayamkottai in the city of Thirunelveli.
Nearly 100 brutal murders have taken place in both the districts in the past 10 months. Of these, 25 per cent were due to caste related issues. As the southern districts of the state, including Thirunelveli and Tuticorin, are industrially weak these have turned into breeding ground of anti-social elements, leading to unrest among the communities. Not only the southern districts, the CPI(M) pointed out that the entire state is gradually coming under the clutches of anti-social elements, who have patronage of the ruling classes and the police.
AIADMK has been ruling the state for the past 44 months. In this period, there have been 7,805 cases of murder, 79,305 dacoity and 4,697 cases of rape and crime against women. Among these, only 1,614 cases have been taken up by police and only in one case the culprits have been punished. In such a situation, the CPI(M) organised the protest, demanding action against anti-social activities and stoppage to attacks against women and Dalits.
Speaking on the occasion, Ramakrishnan said the people of the districts of Thirunelveli and Tuticorin have lost peace after the sudden increase in murders in the past one year, mostly because of clashes among different communities. The murders, which were result of usury, illegal sand mining and caste affiliation, could have been prevented. However, lack of appropriate action on part of the police force has led to the spurt in murder.
"When CPI(M) MLAs wanted to raise the issue in the Assembly they were denied permission, prompting them to stage a walkout. The Chief Minister claims that absolute peace is prevailing in Tamil Nadu at a time when two districts have witnessed nearly 100 murders in just a year. Hence, we appeal to the public to judge the situation and join hands to ensure peace and amity everywhere. The police and the revenue administration should help in every effort being taken here to bring back normalcy," Ramakrishnan said.
Flaying Chief Minister O Panneerselvam for his recent claim in the Assembly that there was no honour killing in the state, Ramakrishnan said four honour killings have been recorded in the state after the Chief Minister's claim. There were 42 honour killings in recent years, he said and demanded stringent action against those who were involved in such crime. The CPI(M) also demanded that the case pertaining to the suicide of Agricultural Engineering Department officer S Muthukumarasamy be handed over to CBI.