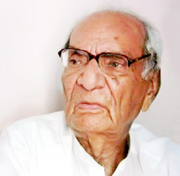 Comrade Sobho Gianchandani
On January 22, 2015, the International Department of the Communist Party of India (Marxist) sent the following message to the National Workers Party of Pakistan, for the January 25 meeting in Karachi to condole the recent demise of veteran communist leader, Comrade Sobho Gianchandani.
IT was with a great sense of grief and loss that the Communist Party of India (Marxist) learnt about the sad demise of Comrade Sobho Gianchandani on December 08, 2014, at the ripe age of 95, in Larkana. He was an epitome of revolutionary struggle in that part of the subcontinent.
The large number of people who attended Comrade Gianchandani's funeral, testified to the great love and affection that he commanded all over Pakistan.
Born on May 3, 1920 in Bindi village near Moen Jo Daro, Pakistan, Comrade Gianchandani received his initial education in Larkana and then joined Shantiniketan, where his love for folk music brought him in 1939. Here, Gurudev Tagore used to call him lovingly "the man from Moen Jo Daro."
In 1942, he joined the LLB course in Karachi where he took part in establishing the Sindh Students Organisation, and actively participated in the Quit India struggle. Before getting arrested, he spent some time underground. It was in this period that he embraced Marxism-Leninism and joined the Communist Party in the undivided country.
Comrade Gianchandani was one of the pioneers of the communist movement in Sindh and guided the Progressive Writers Association in the country till his last. He worked with many prominent personalities including Tagore, Mahatma Gandhi, Jawaharlal Nehru, Maulana Abul Kalam Azad and Hyder Bux Jatoi.
During the last seven decades, Comrade Gianchandani suffered imprisonment more than 20 times but remained steadfast in his Marxist convictions. At a point, he even spurned Z A Bhutto's proposal to join the People's Party. Several times it happened that a court acquitted him in a case but the police immediately interned him on another cooked-up charge. Amid his repeated internments, he received his law degree only in 1967, and began the practice, and his commitment to the people was such that he utilised his knowledge of law to fight court cases on behalf of the poor peasants, sharecroppers and landless labourers, free of charge.
In a speech made on his 91st birthday in Larkana, he reiterated his conviction, saying: "I still see light at the end of the tunnel. I will never give up."
A man who was well versed in Sindhi, English, Urdu, Bengali, Hindi, Persian and Arabic, Comrade Sobho was also a powerful writer, and has left behind four collections of short stories, some plays and novels, besides several articles. Though belatedly, he received in 2004 the Kamal-e-Fun Award, the topmost award given by the Pakistan Academy of Letters in the field of literature. He was the first non-Urdu and non-Muslim figure to get it.
Comrades,
We also fondly recall how despite his age Comrade Sobho travelled by car a long distance from Larkana to Karachi, on March 2, 2005, to meet his old friend, late Comrade Harkishan Singh Surjeet, and Comrade A B Bardhan, when an Indian communist delegation reached Karachi as a part of its visit to Pakistan. The same evening he presided over a meeting organised by the PWA and some other organisations in Karachi to welcome our delegation.
While aggrieved over the demise of Comrade Sobho Gianchandani, we sincerely believe that comrades in Pakistan would steadfastly take forward his tradition, overcome their problems and surge ahead in the days to come.