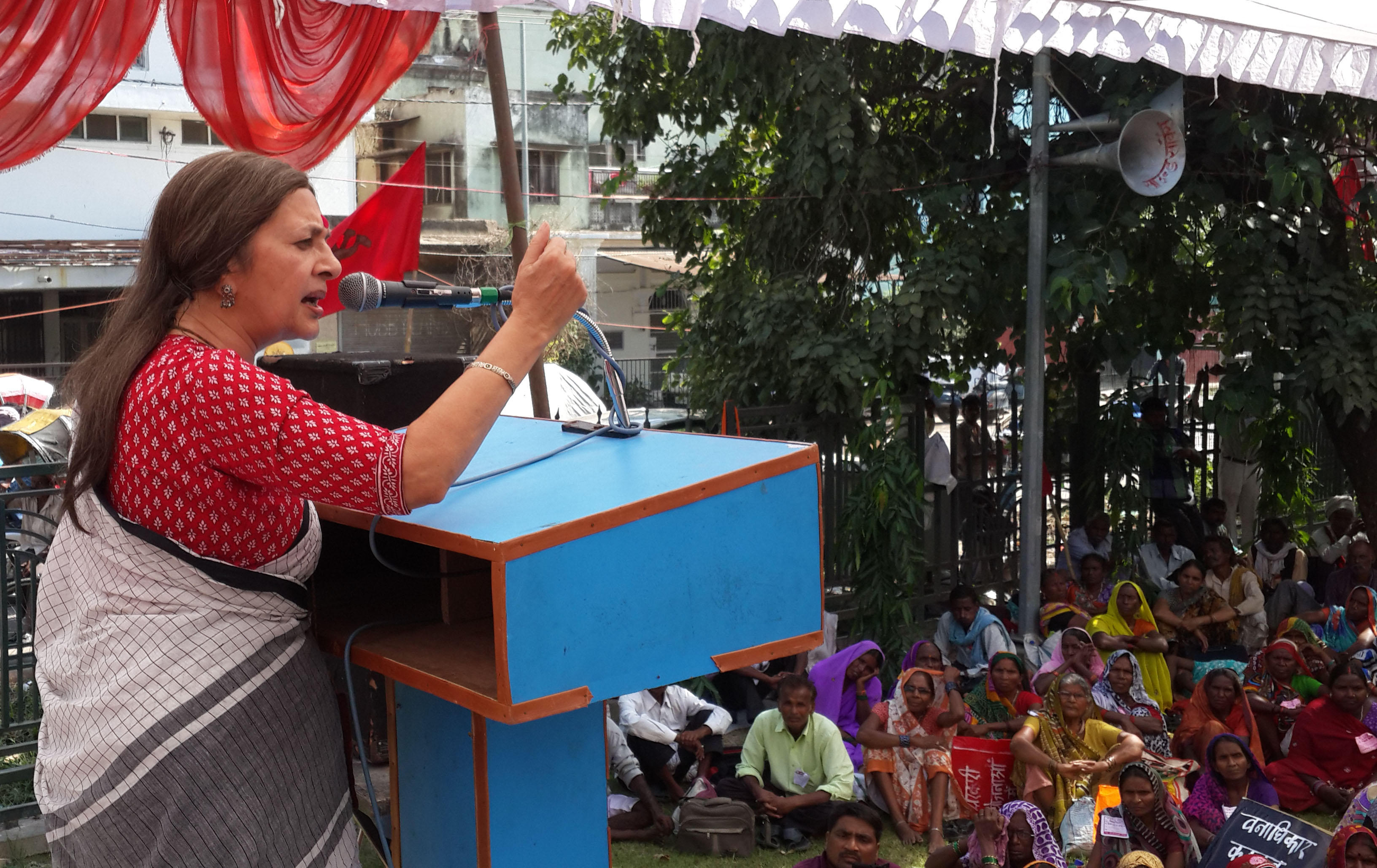 UP: AIAWU Rally Calls for Struggles on MNREGA
Subhashini Ali
ON September 25, thousands of poor women and men belonging to the poorest, landless communities, came to Lucknow the capital of Uttar Pradesh with the red flags of the All India Agricultural Workers Union in their hands. They came from many districts - Deoria, where they had to brave heavy rains while coming to the station, Mirzapur, Allahabad, Basti, Sonbhadra, Chandauli, Varanasi, Sultanpur, Azamgarh, Moradabad, Bareilly, Eta, Kasganj and Fatehpur.
They came to demand more work, more wages and more workdays under a MNREGA scheme that is not only riddled with corruption in the state but which has come to a complete standstill when it is needed most at a time when 44 districts in the state have been declared drought-affected, when the paddy fields are lying untended, when agricultural work for the landless, already severely reduced, has become negligible. They came to demand ration cards and an assured supply of subsidised rations in a state where they get neither cards nor rations. They came to demand a law to guarantee the rights and social security of rural workers in a state which gives them no recognition and no security or health benefits. They came to demand an end to atrocities committed against Dalits and women, atrocities that are becoming more frequent and more brutal. Just a day before the rally, a landless Dalit in Jhansi had been forced to eat and drink his own excreta for several days. They came to demand land rights, homesteads and pattas.
A huge procession was taken out from the station, along the main road of the capital, in front of the Vidhan Sabha, to the Daya Nidhan Park where a public meeting was held. Many of the participants sang songs of struggle, exploitation and resistance.
Brahm Swaroop, state president, presided over the meeting which was conducted by Brijlal Bharti, general secretary. Kashyap, state secretary, CPI(M), assured the rally of the Party's wholehearted support to their demands and struggles. He said that it was their movement that could change the trend of UP politics. Suneet Chopra, national joint secretary, reminded the participants of their long history of agitation and congratulated them on having strengthened their organisation. Subhashini Ali, national vice-president, welcomed all those who had come. Even some who were not members of the organisation, like the poor peasants sitting on dharna for 1500 days against forcible land acquisition of fertile land in Kachri village, Allahabad had joined the rally because of the support they received from the AIAWU. From Allahabad, hundreds of Kol tribal men and women had also come who, along with the other demands of the Union, were demanding justice for a minor Kol girl, raped in June, 2014. Her father, Garib Ram, was also present. Many poor women had who had not received their wages for MNREGA work done long months ago; who had worked as mid-day meal workers for a few months and then been thrown out of work; who had had their precious BPL cards cancelled were enthusiastic participants in the rally. Poor families living in forest areas of Mirzapur who are being threatened with eviction were also there. Landless families who had fought and occupied land that the Benares raja claimed as his in Chandauli and who are now being threatened by goons who want to dispossess them had also come.
The main speaker at the rally, Brinda Karat, CPI(M) Polit Bureau member, greeted all those taking part. She said that UP had the worst record of corruption in MNREGA and this had to be opposed but, even more important, the attempts of the central government to restrict the scheme and change its nature had to be fought. She said that it was shocking that unpaid wages for work done had now reached the unbelievably huge figure of Rs 60,000 crores. This was nothing but shameless loot of the poorest of the poor. She appealed to the participants to unite and defeat the attempts being made by the BJP to divide them and intensify their exploitation.
The meeting ended with a resolution to launch a militant struggle on MNREGA along with the Kisan Sabha and Mahila Samiti.