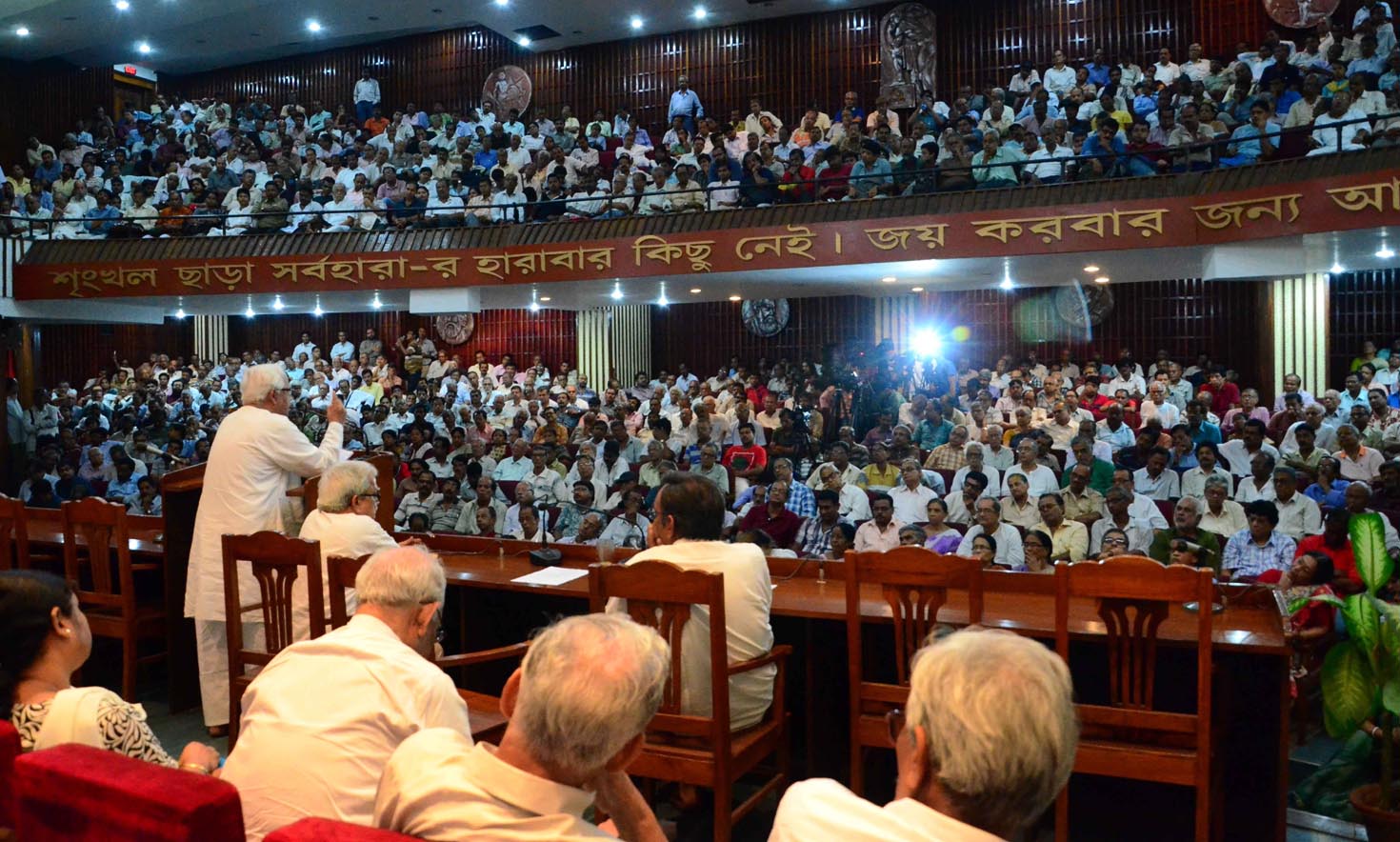 Unite to Thwart the danger of Communal Fascism
From Our Special Correspondent in Kolkata
CPI(M) Leaders called for unity of all Left, democratic and secular forces to thwart the danger of communal fascism in the country. Along with it, they called upon to sharpen the struggle against anti-people economic policies of the Modi government.
They were addressing a well-attended public meeting on August 5 in Kolkata to mark the birth anniversary of Comrade Muzaffar Ahmad, a leading light in the communist movement of India.
Speaking on the occasion, Biman Basu said, the BJP is deciding government policies in consultation with the RSS. They are out to impose new attacks on the secular democratic structure of the country. On the other hand, the Modi government is already on the path to defend the interests of the corporates.
Basu said, in the last three years, West Bengal has witnessed grave attacks on democracy. Criminals have been given protection by the ruling party. Attacks on livelihood of the people have also increased. In such a situation, CPI(M) wants to mobilise all Left and democratic people, even those outside Left Front.
Buddhadeb Bhattacharjee, in his address said the BJP-RSS combine promotes 'communal fascism in the garb of modern industries'. He said, "This combine's ascent to power is a negative rightward shift in Indian politics. What is happening in UP? Banking on communal polarisation scripted there, the BJP got the maximum number of seats in UP. The person who had been instrumental in affecting the religious polarisation is now the president of BJP". Bhattacharjee cautioned that the RSS was trying to spread its wings in West Bengal too. "We will never allow to upset the communal harmony in the state", he asserted.
Bhattacharjee called upon the CPI(M) workers to hit the streets, to build up struggles. "That is what people are expecting from us", he said.
Suryakanta Misra said the people are facing three pronged attack: attack on democracy, attack on secularism and attack on livelihood. This is evident both at the centre and in the state. While the BJP government at the centre is pursuing the same policies of neo liberalism the TMC government here is busy ruining the remaining industries. After the BJP came to power, a spate of communal disturbances has engulfed many states. They are out to create divisions among the toiling people. Left is the only force that can steadfastly resist this but we have to take along all secular democratic forces, he said.